Mille Miglia 2018 considered by many "the most beautiful car race in the world" returns to Lake Garda
The Mille Miglia is perhaps the only race in the world that unites not only classic car collectors and enthusiasts but also communities, as villages and cities along the route turn out during the four days to cheer on the competitors. Now in its 36th edition, the re-enactment of the 1000 Miglia starts on Wednesday 16 May 2018: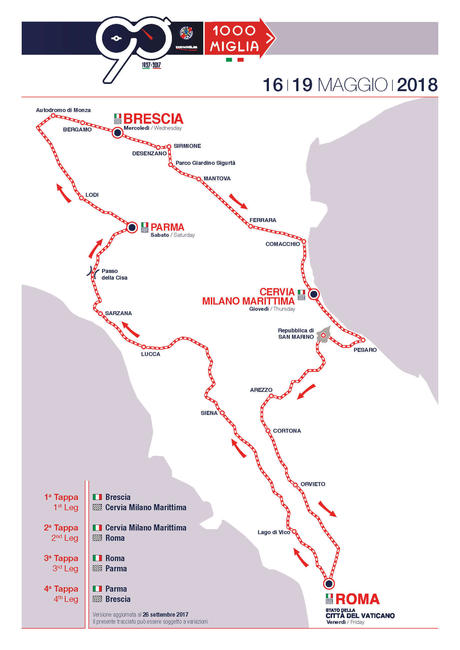 440 cars will start the race at Brescia at 2.30 pm and will make the turning point in Rome and return to Brescia on Saturday 19 May with stages in Cervia-Milano Marittima, Rome and Parma.
On Wednesday 16th, during the first stop, the cars will cross Desenzano and Sirmione, the Sigurtà Garden Park in Valeggio sul Mincio, Mantova, Ferrara and Comacchio until Cervia (Milano Marittima).
On Thursday 17th, after Pesaro and the Republic of San Marino, the participants will pass through Arezzo, Cortona and Orvieto, up to Rome for the night walkway in the capital.
On Friday 18, the route from the capital to Siena in Tuscany.
The route to Lucca via Versilia will be one of the novelties of 2018; after the restoration of the old road, the Mille Miglia will be able to cover stretch of highway of the 1949 edition, between Sarzana and Passo della Cisa.
The third stop will be in Parma and on Saturday morning the cars will return to Brescia.
All participants will conclude the last day of Mille Miglia 2018 with the award ceremony and celebrations including the glamorous "Notte Bianca" event.